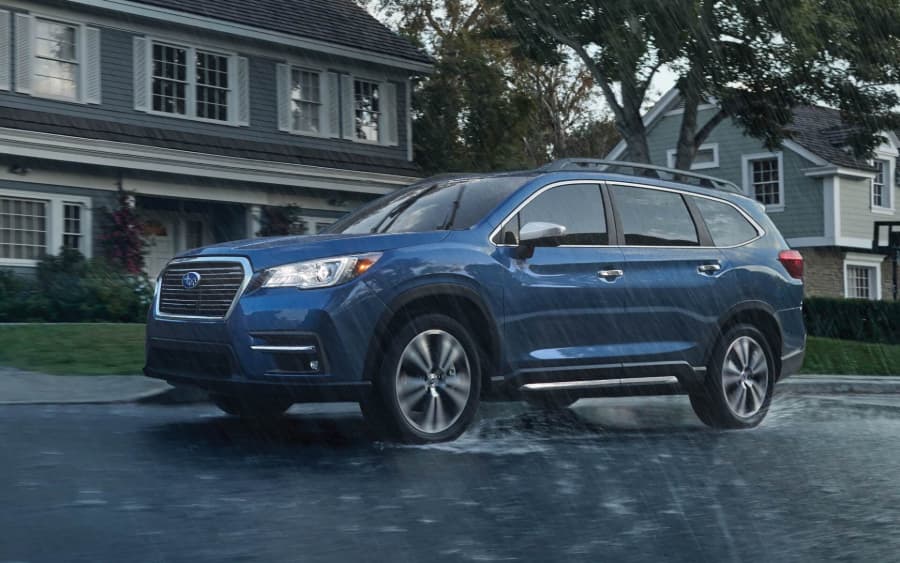 A lot can happen when you're on the road, like bad visibility, slippery roads, collisions, and even theft. As staying safe is always the top priority, drivers seeking a new vehicle should consider the 2020 Ascent, the biggest Subaru ever. It's designed to keep you safe from even the worst disasters, equipped with all-wheel drive, advanced braking systems, and great security. Learn more about the 2020 Ascent's features for safety from Steve Lewis Subaru in Hadley, Massachusetts.
Low Visibility
One of the most common driving dangers is low visibility due to weather. Fog, rainstorms, and blizzards can appear seemingly out of nowhere - especially in New England. One minute the sky is blue and clear, and the next, you can hardly see where you're going through the rainfall, snow, or thick mist. Even dim evening light can make safe driving difficult by reducing your visibility of the road.
Your 2020 Subaru Ascent can't change the weather, but it can protect you from collisions and make driving in low visibility safer. The 2020 Ascent's four-wheel disc brakes, ABS systems, and brake assist technology help you stop when you need to, while bright-beam headlights help you see the road clearly.
Slippery Roads
Not only do changes in the weather affect your visibility, but they also make for dangerous roads. Rain, ice, snow, and even wet leaves can lead to slick roads and dangerous driving. Treacherous roads like these mean that you risk skidding, spinning, and losing control of your car, which can all lead to disasters like a collision with a tree, pole, vehicle, or ditch.
Thankfully, the 2020 Ascent is designed to keep you safe, even on slippery roads. It comes with quality electronic stability control to keep you in command. It also has all-wheel drive and traction control so your wheels keep their grip and don't skid or spin out.
Collisions and Crashes
All these features are hard at work to keep you and passengers safe from a collision, but what if the road conditions are just simply bad? What if you can't avoid a crash? Vehicle collisions are the worst-case outcome of slippery roads and low visibility. In the event of a collision, the 2020 Ascent's adjustable head restraint keeps your head and neck protected. It also features dual front and side airbags, with even more located at the knee and overhead.
Car Break-Ins
Car theft is one of the most infuriating things that can happen to a vehicle owner. To prevent break-ins, the 2020 Ascent comes with a car alarm, security system, and perimeter lighting to alert you to unwelcome approaches and entries into your car. It also has the STARLINK Safety and Security tracking system, so if the thief does drive away, you and the police can easily track down and recover your car.
Always Trust a Subaru
The 2020 Subaru Ascent is designed with safety in mind, with features to guarantee protection for drivers and passengers alike. When shopping for your next car, visit the Steve Lewis Subaru dealership in Hadley, Massachusetts. We serve Subaru lovers in West Springfield, Pittsfield, Attleboro, and across Massachusetts with new and certified pre-own vehicles. To find out more about purchasing a Subaru, contact us today at 888-950-8587.